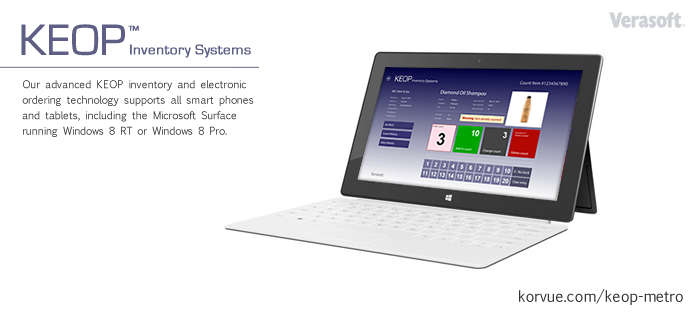 Verasoft's KEOP product division announced today a new Windows Metro interface for inventory management, including multiple counting and transfer functions. They are calling this system KEOP MT and it is fully touch-enabled. It's one polished and impressive looking app.
Because KEOP's inventory architecture is tightly integrated into KORVUE, the KEOP MT product has a KORVUE mode that allows the system to create and modify records in KORVUE. This is directly communicating with the KORVUE database, so there is no syncing with a separate system. KEOP MT also enforces your KORVUE security settings.
KEOP MT is wireless and posts all entries as transactions, so every item you count or transfer is separately accounted for and not stored on the device itself. It supports pausing and resuming...you can even resume on a different. It supports connected or wireless USB barcode readers, Bluetooth barcode readers, and even allows you to use the device's camera to scan items.
KEOP MT supports Windows 8, including RT. We tested it on a Microsoft Surface RT and it was great. Having all that landscape to work with really makes a difference. I've used the KEOP HHD handheld gun in the past, and while it works nicely the screen is small. This large screen with all the extra content you get is awesome. You can use other Windows devices, but RT works well because the data is actually stored in your KORVUE database, not on the device.
This system gives you great insight into prior counts or transfers, and even movement history. So, I can select a product and see movement charts and data on the fly. Great feature.
Our enterprise and franchise clients will like to know that KEOP MT is also a framework that can be customized, however there's so much here I'm not sure what you'd add or change.
Welcome to the KORVUE family, KEOP MT.
You can learn more here.